Training Workshops and Classes
– 13 Workshops in 8 hours!
Dr. Stephen Ezra West is also the developer of original Speed Healing™ and Speed-Healing™ techniques
Learn the 'laying on of hands' – Power Heal techniques designed just for you!
SpeedHealing.com is expected back to it's rightful owner soon!
See prerequisite info below. Also due to the nature of the techniques taught through this event, note the disclaimer below.

This 'step-by-step' hands on training teaches self-help techniques unique to Clarity University.
Live demonstrations are a powerful method of experiencing the typical results for yourself.
You will never really know how powerful this is until you experience it for yourself!
As powerful as this is, we still can't guarantee to cure anything!


Techniques are taught which target every single part of the body including:

respiratory system - deep breathing techniques


Walker West Walk

Singing Breath


pain relief techniques - sometimes instantaneous


smashed, burned, cut & cut off fingers

sore arms & legs

neck pain

migraine prevention & relief

back pain relief

sciatic nerve

arthritis pain relief - every "....itis" means "inflammation"


muscles


when muscles shut off, they also contract

pulling the bones out of place

contributing to high blood pressure

and other muscle problems


broken bones

Joints


hips

knees

ankles

shoulders

fingers & other joints


spinal methods include: Spine Escalator & Spine Elevator™ methods

cancer - "tumor" means "to swell" - remove the swelling and food (fermented glucose) cancer cells live on

blood vessels - heart & cardiovascular disease


relief from high blood pressure


relax muscles around the arteries and veins to relieve hypertension

unlock the capillary flow to reduce 'back pressure' on the cardiovascular system

create the healthy subpressure environment of the cells to further take pressure off of the blood vessels directly


more on vascular systems


your lymphatic system is your immune system (your other circulatory system)

edema & obesity (a form of lymphedema)

light years ahead of manual lymphatic drainage therapy

activate your lymphatic vessels - clearing swollen lymph nodes & glands


stress prevention & relief

head injury - mind & memory - nervous system

eyes

understanding allergies

understanding leaky gut syndrome

hernias

hiatal hernias

more on other internal organs


Additional Technique For Lifetime Students ONLY:


Instant Health Data Transfer™, aka Jedi Mind Healing™ method - Learn how to subconsciously transfer a massive amount of data in just a moment through the eyes of your loved ones for general health benefits. Experience our proven 100% successful process for this subconscious communication method - Only available LIVE! (Dr. West uses this information to perform the Instant Mass Healing™ demonstration at the introductory events!)


endocrine glands or chakras

hormone balance

energy levels

clarity of thought


You will perform these easy techniques, and witness LIVE INSTANT results, following our simple instructions!

Add some new options to your arsenal! Options = Freedom! Knowledge = Power!

Medical Doctors spend hundreds of thousands of dollars in medical school and they still aren't taught the safe methods that are demonstrated at this event. We basically set up a spiritual healing retreat centers everywhere we go for the duration of these events - a seminar like no other. Conquer your fear and build up your self confidence and self esteem while you learn these fun and simple methods.

You will walk away with new experience every time you participate.
---


CLU — "It's the university with a CLU!"
– FULL DAY & NIGHT! – 12 hours!

We make it possible for you take the final exam on the first day of school, and everyone makes an A!

Earn a Certified Lymphologist (CL) degree at this event designed to help you walk away with your certificate!


We figured out the answers to most peoples questions and respectively put them in a textbook and a 261 question exam. Each question directs you to the page number in the book where the answer is found, so you can just look them up and write them down.

Our 261 question Examination for Certification in Lymphology has always been 'open book' and home study. Completing this exam is a required step to obtain your degree. Our goal with this unique fast paced group study session will help you complete our final exam in one single day!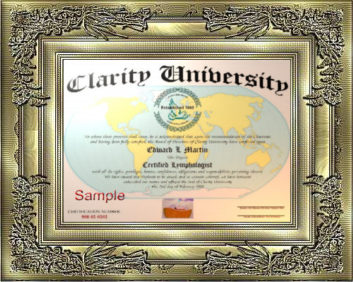 — CL Degree
The Certified Lymphologist (CL) degree is a highly valuable benefit of attending "Certified Lymphology University" - (CLU).

Attending the wonderful LIVE Power Heal training workshop, along with completing the Examination for Certification (261 questions - page numbers for answers - open book), are both required to qualify for the CL degree, and are an amazing value of experience.

Attending the live events and completing the exam are the two of most powerful things anyone can do for themselves and their loved ones, so we recommend everyone experience them both, whether they feel they want the CL degree or not!

If other family members in your household would like to complete the exam, you'll have access to a digital printable copy to make that another simple and easy process for you. Some very fast and easy methods for you and your loved ones to learn are ready and waiting for you in this program.


---

Participation By Qualification Only:

Prerequisite: For added clarity & simplicity, all those who plan to attend the Race For The Truth and/or especially the Power Heal and CLU classes are required to experience the Zero Disease class FIRST, either live or online. This rule applies to everyone.

The overall experience for everyone attending this event is enhanced when we all follow the basic principles of preparedness.


---

Join the Zero Disease and Race For The Truth facebook groups to stay informed about when and where our events are held.


---

Holding Seminars in Your Area?

We are planning several events
from coast to coast and around various parts of the world.
Let us know if you'd like to help us organize an event in your area.


Other qualified instructors may also have events listed here.
Contact us for questions.
By the original developer of Speed-Healing™



---

Use of this site is governed by our Terms of Service. We do not provide medical advice, diagnosis, or treatment. The material on this website is provided for educational purposes only. See additional information.
Copyright © Clarity University 1981-2017 - All Rights Reserved